Our Howliday Donation Drive takes place every year for the entire month of December. Collection boxes are stationed at participating businesses throughout Berks and Lancaster Counties and surrounding areas. High-priority items are bags of wet AND dry, dog AND cat food.
Our 2022 Donation Drive participants collected over 4,000 pounds of JUST food alone to the hungry animals in need! That's not counting litter, toys, and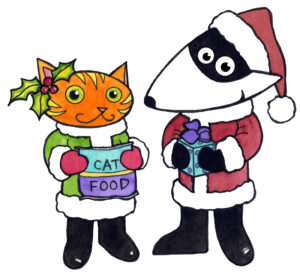 other supplies! Thanks to the generosity of our communities, we collected almost double the amount of food from 2021!
Donations go directly to our animals at The Freedom Center for Animal Life-Saving and The Lancaster Center for Animal Life-Saving and supports Spike's Pet Pantry, which distributed over 148,000 lbs. of food, supplies, and litter to families and organizations in need this year.
Questions or interested in participating next year? Please contact Nicole Koch, Events & Volunteer Coordinator, at nkoch@humanepa.org or (610) 750-6100 ext. 232.
THANK YOU to 2022's Participating Locations!