June's Life-Saving Story: Chip

Chip: Looking Good, Feline Good
Meet Chip, a 1-year-old male domestic shorthair who was surrendered to the Freedom Center for Animal Life-Saving at the beginning of April, due to his original caretaker's declining health. Other than a cloudy right eye from a previous infection, Chip was a healthy cat overall. However, he became extremely shut down at the shelter and would hide in corners, cowering away from anyone who tried to come near him.
Chip was taken to Humane Veterinary Hospitals – Reading to be examined by Humane Veterinarian Dr. Amber Weaver, who immediately noticed an ulcer on Chip's right eye. She knew that the right medication would do the trick, and hoped that administering the medication would be a breeze like it was with so many other cats before…To her dismay, Chip responded to receiving his medication by hissing, swatting, and displaying overt signs of stress.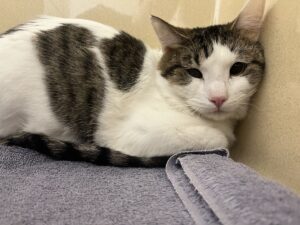 When Dr. Weaver re-examined Chip's eyes, she was disheartened to see increased inflammation of his iris, and prescribed steroid eye drops. Seeing no improvement after administering the drops, Dr. Weaver checked the pressure in both eyes and interestingly found normal pressures in the eye being treated. However, what was believed to be the healthy eye had higher pressure, which was causing Chip immense pain and discomfort, and would likely get worse and more unbearable in time. More medications were prescribed to Chip, which he despised and fought hard to refuse. Without them, however, Dr. Weaver stated that Chip would likely experience continuous pain similar to a constant, debilitating migraine.
Staff were met with a dilemma, and the question had to be asked. What can be done for a cat who loathes eye medication, but would need them for the rest of their life? Without the medication, this condition could seriously impact Chip's quality of life in his later years. After discussing the options, it was decided that the best course of action would be to remove both of Chip's eyes to relieve the pressure.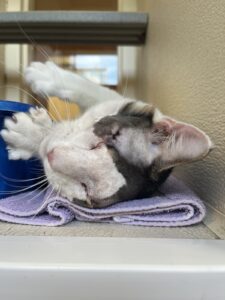 After the successful removal of both eyes, Chip turned into a completely different cat! It was clear how much pain he must have been in, and how much better and happier he felt. Hiding, hissing, and swatting has turned into purring, making biscuits, rolling around, and seeking attention from anyone who walks by. Chip is currently waiting for his new forever family at the Freedom Center for Animal Life-Saving.
A life-saving double-eye enucleation for Chip would not have been possible without the amazing donors who support the work being done at Humane Pennsylvania. Your generosity gives animals like Chip a second chance at a happy, comfortable life. Donate now to help us save more animals like Chip.
May's Life-Saving Story: GG the Hamster
 
A Pet is Worth Saving, No Matter How Small
GG, a scared and defenseless female Hamster, was found stuck in a glue trap on the streets of Reading at the beginning of May. The good Samaritan who found her worked carefully to remove the glue from her stomach and paws, before bringing her to the Freedom Center for Animal Life-Saving.
Shelter staff immediately began treating GG's skin, while continuing to search for her original owners, thinking someone must be missing her and would surely want her back home, where she is safe and comfortable.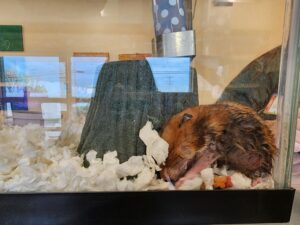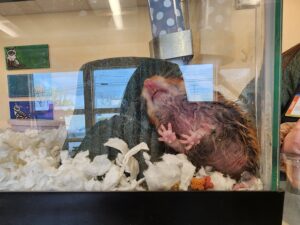 While in HPA's care, GG was examined by Humane Veterinarian Dr. Weaver, who was relieved to see that GG did not suffer any major, unrepairable injuries. She recommended that GG be monitored and receive daily cleansing baths with a chlorhexidine rinse to heal her irritated skin. She also advised that antibiotics may be needed if GG became lethargic or her skin condition worsened.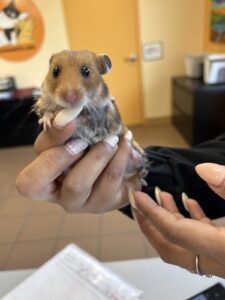 Fortunately, the baths helped and GG's skin began to heal, which cleared her for adoption. After receiving overwhelming interest in this tiny but mighty girl via social media, GG found her new forever family on May 6 and has been getting back into the swing of what she does best – enjoying life as a happy, safe, pet hamster once more.
No matter how big or small, the staff at Humane Pennsylvania always does their due diligence in saving every animal that finds itself in their care. Things were no different in GG's case. Humane Pennsylvania saw a glimmer of hope in those tiny eyes and immediately acted to save GG's life, giving her the second chance that she deserved.  Please consider donating to help save the lives of other homeless animals, just like GG. 
April's Life-Saving Story: Reese
 
Reese's Comeback: Miracles Happen
Reese, a 10-year-old domestic shorthair, lived happily with his previous caretaker for 5 years before he was surrendered to the care of the Lancaster Center for Animal Life-Saving this past Winter due to the caretaker's declining health and inability to afford veterinary care for Reese. During the intake process, shelter staff immediately noticed Reese was covered in live fleas and flea dirt. They saw that his fur was thinning, he had significant scabbing, he was overweight and he was drooling excessively. Despite his concerning appearance, Reese appeared happy and playful to the HPA staff.
Reese was then seen by Humane Veterinarian, Dr. Connolly, who discovered an ulcerated mass underneath his tongue. She immediately feared the worst – Reese may have mouth cancer and recommended that he be placed on a diet in order to be cleared for mass removal surgery as soon as possible. After a few days, the mass became noticeably infected and painful for Reese. Pain medication was prescribed, and he was transferred to Humane Veterinary Hospitals Reading for an emergency mass removal on March 3rd.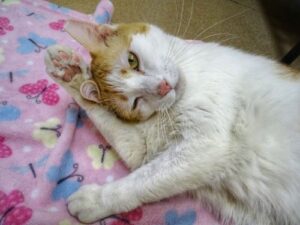 After recovering from surgery, Reese went home with a generous hospice adopter and was seen by another local Veterinarian, who gave the dreaded diagnosis. Reese was at extremely high risk for mouth cancer and likely only had 1-3 months to live. Sadly, Reese was returned to the Lancaster shelter shortly thereafter, as he was not getting along with the other cats in the home. It was recommended to Humane PA staff to consider humane euthanasia or find a cat hospice willing to take him in. The shelter staff was confident that someone out there would love Reese unconditionally, so the search for Reese's forever home continued.
While Reese waited for the right match to come along, he remained in the care of the Lancaster staff and was provided pain medication to keep him comfortable. Naturally, volunteers fell in love with his personality and temperament. One of the dedicated cat volunteers noticed how Reese continued to thrive in the shelter, despite his terminal diagnosis, and very generously decided to cover the cost of having Reese's mass sent out for testing! The mass was sent out on April 6th and everyone held their breath until the results came back just five days later.
Miraculously, the mass was completely clear of cancerous cells. Reese was now ready to enjoy his second chance at life as a senior cat! On April 14th, the wait was finally over and Reese was adopted! He has been adjusting well to his new home and loves being on the move!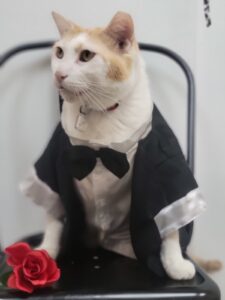 Thanks to the dedication and help from Humane Pennsylvania volunteers, donors, and staff, Reese was given a second chance at being a happy, healthy house cat. With the incredible generosity of supporters like you, animals in our care are able to thrive and survive.
March's Life-Saving Story: Squash
 
Squash the Tripod Kitten: What's in a Name?
Squash, a tiny and defenseless kitten, was surrendered to the care of Humane Pennsylvania in November of 2022 during an emergency walk-in appointment, after a concerned passerby picked him up from the side of a busy road. HPA Animal Care Technicians quickly noticed that the 6-month-old kitten was unable to bear weight on his back legs, and immediately called on the Humane Veterinary team for help.
An x-ray performed by Humane Veterinarian, Dr. Connolly, showed fractures in both back legs, significant displacement in the rear left leg, and a femoral head fracture – likely from being struck by a vehicle. Due to the complexity of the fracture and its proximity to the skin, HPA veterinarians made the difficult but necessary decision to remove the severely broken leg and provide strict cage rest to allow the other leg to heal fully and successfully.

Four days after being surrendered, Squash underwent neuter surgery and a full left leg amputation. Unfortunately, Squash had difficulty recovering from anesthesia due to his size and condition and was showing potential signs of a blood clot – pale gums, low blood pressure, and unresponsiveness. Everyone feared that Squash would not make it through the night.
If miracles truly are real, this little guy's story sure is one! The following morning, HPA staff saw a complete change and unbelievable improvement in Squash! He was bright-eyed, purring, eating, and attempting to move around. That same day, he was approved for intake and was back to his old kitten ways – making biscuits and begging to be held.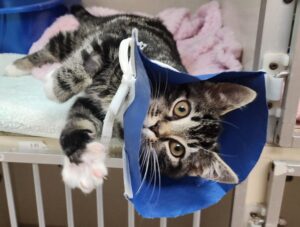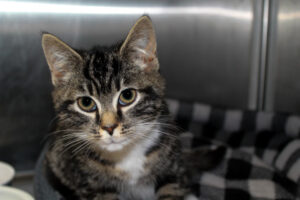 After about three weeks of cage rest, Squash's right leg healed significantly and he was cleared for adoption. Within another two weeks or so, Squash found his forever home! The Lancaster staff completed a three-week check-in with Squash's new family in January, and he is having a fantastic time exploring his new home.
Lifesaving treatment and remarkable recoveries like this one would not have been possible without the help of HPA supporters and donors. Generous gifts from animal-lovers everywhere is the only way to ensure that Humane Pennsylvania has the resources needed to provide emergency care for the next vulnerable animal that comes into their care.
February's Life-Saving Story: Willow
 
Willow Comes Home: Little Fear, Many Braveries
In May of 2022, the Humane Pennsylvania shelter staff was introduced to Willow, a 9-week-old Shetland Sheepdog who was in pretty rough shape. When she first arrived, her eyes were crusted shut, and she had sore lesions in her ears and on her mouth. Her condition was unlike anything our shelter staff had ever seen before.
Some would say that Willow fell into the lap of her original caretaker when they were approached by a neighbor who was breeding dogs. The breeder handed Willow over, stating she was not worth being treated, and he would 'dispose' of her if no one took her. With that, Willow's original caretaker felt that she had no choice but to take the helpless puppy in. After only a few days, she was heartbroken to discover that she was allergic and unable to keep Willow, which is how she ended up at the Lancaster Center for Animal Life-Saving.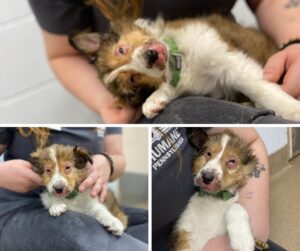 It was obvious to the shelter staff that the poor pup was in extreme discomfort and desperately needed some medical attention. After careful evaluation by Humane Veterinarian, Dr. Jackie Connolly, it was determined that Willow was suffering from Juvenile Cellulitis, also known as Puppy Strangles, an uncommon skin condition that usually develops in young dogs. Willow was clearly in a lot of pain and she cried out when anyone attempted to touch her mouth. Due to the severity of the circumstance, it was quickly determined that Willow should be placed in our foster-to-adopt program, so she could comfortably continue to heal until she was ready to be spayed and placed up for adoption.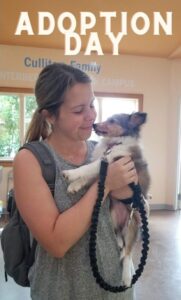 After just eight days in HPA's care, Willow showed enough progress that she was ready to leave for her foster-to-adopt home. While she wasn't out of the woods just yet, our staff was amazed at how far Willow had come after just a week of treatment. On June 16, about one month after she first arrived at the shelter, Willow was officially adopted by her foster family. During her time in our care and her foster home, Willow has managed to make a full recovery and has completely transformed from a scared, pained, defenseless animal to a beautiful, happy, healthy, outgoing puppy.  Today, she is doing extremely well and is flourishing with her forever family.
Without the instinct of Willow's original caretaker and the care from our HPA staff, Willow would have never made it this far. Because of the generosity and dedication of our donors, staff, and volunteers, we were able to provide Willow with life-saving treatment and care, as well as the resources her foster family needed to care for her.
Thanks to your support, we were able to give Willow a second chance at a healthy life with a loving family. Please donate now to ensure we have the resources needed to provide life-saving care for the next animal that comes through our door.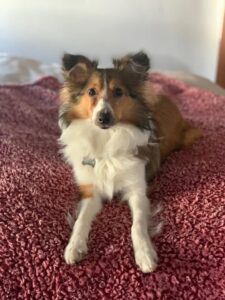 January's Life-Saving Story: Stitch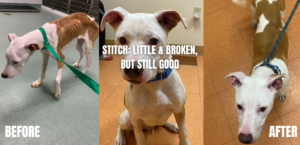 Introducing Stitch: Little and Broken, But Still Good
When Brandea Taylor, Shelter Manager of The Freedom Center for Animal Life-Saving, first saw Stitch on November 15, she could barely hold back her tears. The young Pitbull puppy, which should have weighed fifty pounds or more, was just shy of skin and bones, weighing only twenty pounds. He could barely walk or hold himself up as his caretaker begged for help. She had already taken him to another veterinarian in the area, where he was treated for five days due to extreme diarrhea and vomiting. After spending all she could manage to treat his unknown illness, she returned home with Stitch and medication that unfortunately didn't work. As his condition worsened, his owner was at the end of her financial and emotional rope, with nowhere else to turn. Before leaving in tears, she asked Brandea to take Stitch into HPA's care, make him well, and find him a new home.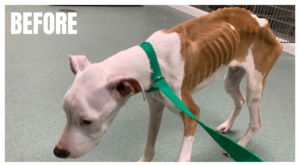 After examination and bloodwork revealed profound dehydration, malnourishment, and anemia, HPA Veterinarian Dr. Amber Weaver concluded Stitch suffered from a bowel obstruction that would soon prove fatal without immediate action. Dr. Brandon Wegner performed exploratory surgery and was shocked to find a two-inch foam Nerf ball in Stitch's small intestine, which had been blocking his digestive tract for over a month. Even with the successful removal of the object, Stitch's comeback was uncertain. To safely recover, he would need careful feedings every four hours for twenty-four hours a day and a night nurse to watch over him. Thankfully, HPA Veterinary Technician, Cindy Rivera, volunteered to take him home each night and bring him back to work every day. After two weeks, he had already gained ten pounds under Cindy's care and was cleared for adoption.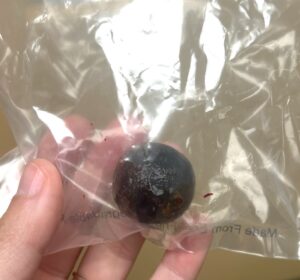 Stitch's original owner was overjoyed to hear of his recovery, but she felt she could not give him the life he deserved and asked Brandea to keep her promise to find Stitch a new forever home. Brandea did just that, and Stitch was adopted by a family that met him while he was being fostered. When they returned for Stitch's follow-up veterinary visit on December 15, he weighed a whopping 40 pounds. He had doubled his weight in just one month!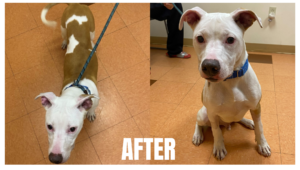 Stitch's comprehensive veterinary care directly cost Humane Pennsylvania thousands of dollars, and would have easily cost thousands more, had these services been provided by a for-profit veterinary hospital. Humane PA could only provide this life-saving treatment because of exceptional staff and volunteers, and the support of our generous donors. Like thousands of other pets each year, Stitch had access to care that would otherwise not be possible without Humane Pennsylvania. The animals in our care and the care of those in our community are family, and family means no pet gets left behind or forgotten.

Your support gives animals like Stitch a second chance at life. Help us save more animals now.