January's Life-Saving Story: Stitch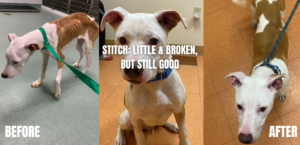 Introducing Stitch: Little and Broken, But Still Good
When Brandea Taylor, Shelter Manager of The Freedom Center for Animal Life-Saving, first saw Stitch on November 15, she could barely hold back her tears. The young Pitbull puppy, which should have weighed fifty pounds or more, was just shy of skin and bones, weighing only twenty pounds. He could barely walk or hold himself up as his caretaker begged for help. She had already taken him to another veterinarian in the area, where he was treated for five days due to extreme diarrhea and vomiting. After spending all she could manage to treat his unknown illness, she returned home with Stitch and medication that unfortunately didn't work. As his condition worsened, his owner was at the end of her financial and emotional rope, with nowhere else to turn. Before leaving in tears, she asked Brandea to take Stitch into HPA's care, make him well, and find him a new home.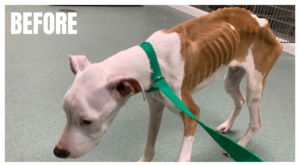 After examination and bloodwork revealed profound dehydration, malnourishment, and anemia, HPA Veterinarian Dr. Amber Weaver concluded Stitch suffered from a bowel obstruction that would soon prove fatal without immediate action. Dr. Brandon Wegner performed exploratory surgery and was shocked to find a two-inch foam Nerf ball in Stitch's small intestine, which had been blocking his digestive tract for over a month. Even with the successful removal of the object, Stitch's comeback was uncertain. To safely recover, he would need careful feedings every four hours for twenty-four hours a day and a night nurse to watch over him. Thankfully, HPA Veterinary Technician, Cindy Rivera, volunteered to take him home each night and bring him back to work every day. After two weeks, he had already gained ten pounds under Cindy's care and was cleared for adoption.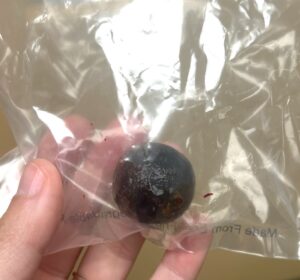 Stitch's original owner was overjoyed to hear of his recovery, but she felt she could not give him the life he deserved and asked Brandea to keep her promise to find Stitch a new forever home. Brandea did just that, and Stitch was adopted by a family that met him while he was being fostered. When they returned for Stitch's follow-up veterinary visit on December 15, he weighed a whopping 40 pounds. He had doubled his weight in just one month!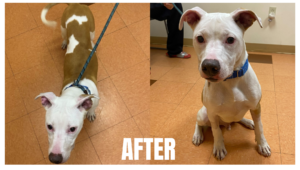 Stitch's comprehensive veterinary care directly cost Humane Pennsylvania thousands of dollars, and would have easily cost thousands more, had these services been provided by a for-profit veterinary hospital. Humane PA could only provide this life-saving treatment because of exceptional staff and volunteers, and the support of our generous donors. Like thousands of other pets each year, Stitch had access to care that would otherwise not be possible without Humane Pennsylvania. The animals in our care and the care of those in our community are family, and family means no pet gets left behind or forgotten.

Your support gives animals like Stitch a second chance at life. Help us save more animals now.