Healthy pets, healthy communities
Humane Pennsylvania believes veterinary care is the key to keeping pets healthy and happy at home. We also believe everyone has the right to meaningful access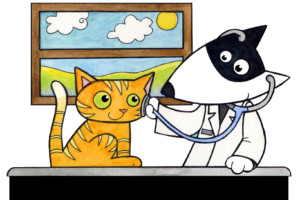 to veterinary care they can afford. The Healthy Pets Initiative (HPI) was created to provide exactly that.
From full service, nationally accredited animal hospitals, to walk-in wellness clinics and pay-what-you can neighborhood vaccination clinics, HPI has ways for everyone to get their pets critical health care. HPI also offers a variety of other caretaker supports, such as Spike's Pet Food Pantry, a free community dog park, and advice and assistance to those in need.
Check out the Healthy Pets programs and services that are available to you and your pet!
Please email us at healthypets@humanepa.org if you have questions about our HPI services.
Humane Pennsylvania's Healthy Pets Initiative: Building the Best Community Anywhere to be an Animal!
One Size Does Not Fit All!
All pets need great healthcare, but not all healthcare options work for everyone. No matter what your needs are, we've got you covered! Choose from our Humane Veterinary Hospital services, Healthy Pets Walk-In Clinic services, or a Healthy Pets Pay-What-You-Can neighborhood vaccination clinic.
With a variety of services, ways and times to access them, and variable pricing, HPA is here to help you and your pet get great vet care- how, when, and where you need it.
Check out the handy guide to Humane Pennsylvania veterinary services below!