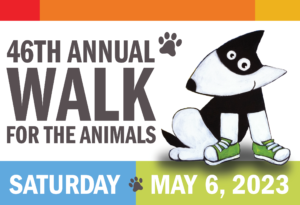 Humane Pennsylvania's Walk for the Animals is the oldest and largest animal welfare event in the region, that attracts thousands of participants annually and is supported by animal lovers and their friends across the nation. For over 45 years, Walkers have been helping raise funds and awareness to improve the lives of animals and the people who love them – and having lots of fun doing it!
Walk registrations raise vital funds to help animals in our care and community. By pre-registering for the Walk and fundraising with friends, co-workers, and family, you will make a lifesaving difference for thousands of animals!
In the last ten years alone, thousands of Walkers have raised over $1,000,000. This year, we're hoping that you can help us raise even more funds for the animals!
Date: Saturday, May 6, 2023
Time: 10 AM – 2 PM
Location: Jim Dietrich Park ,  4899 Stoudts Ferry Bridge Rd, Reading, PA 19605
Join us as an adult walker, a VIP walker, or start a Pack with your friends and family! Whether you are walking virtually, attending in person, or simply raising funds from the comfort of your own home, your participation saves lives and gives second chances to the community's most vulnerable animals.
For questions about sponsorships and vendor opportunities, please contact Lauren Henderson Pignetti, Director of Development, at lpignetti@humanepa.org or call (610) 750-6100 ext. 211.
For general event questions, please contact Nicole Koch, Events Coordinator, at nkoch@humanepa.org or call (610) 750-6100 ext. 232.