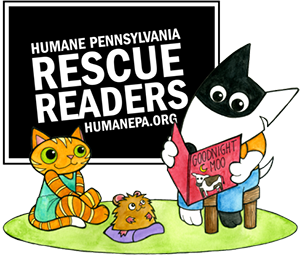 The Rescue Readers program was developed to provide our younger volunteers, age 4-13 years old, with an opportunity to share their compassion for the cats in our shelter, expand their reading proficiency, and give back in a meaningful way.
Our adoptable cats appreciate being read to by our Rescue Readers as reading aloud has a positive impact on the cats in our cat colonies, while also helping the readers become more comfortable and confident reading aloud.
Rescue Readers meet at both Humane PA shelters (The Lancaster Center for Animal Life-Saving and The Freedom Center for Animal Life-Saving) each Saturday and Sunday between 11:00 AM – 3:00 PM, for half-hour reading sessions.
Each Rescue Reader volunteer must be accompanied by a parent during their visit and preregister for a designated reading time in one of our two cat colonies.
Readers are welcome to bring along their own book from home or borrow one from our bookshelf.
Application Process:
Online application – We recruit new volunteers throughout the year, on an as needed basis.

Reserving a Time – Instructions will be sent to you on how to sign up for a time slot using our MyImpact system.
Parent Waiver – When you arrive for Rescue Readers, please go to the front desk to fill out and sign the parental waiver. This must be completed prior to the first reading.
For more information or questions about the Rescue Readers program, contact Lauren Henderson Pignetti, Director of Development at lhenderson@humanepa.org  or 610-750-6100 ext. 211.
Hey kids! Our animals would love for you to color them a picture! Click on an image below to print and mail us back your masterpiece! We will hang these up for our animals to enjoy while they wait for their furever homes!